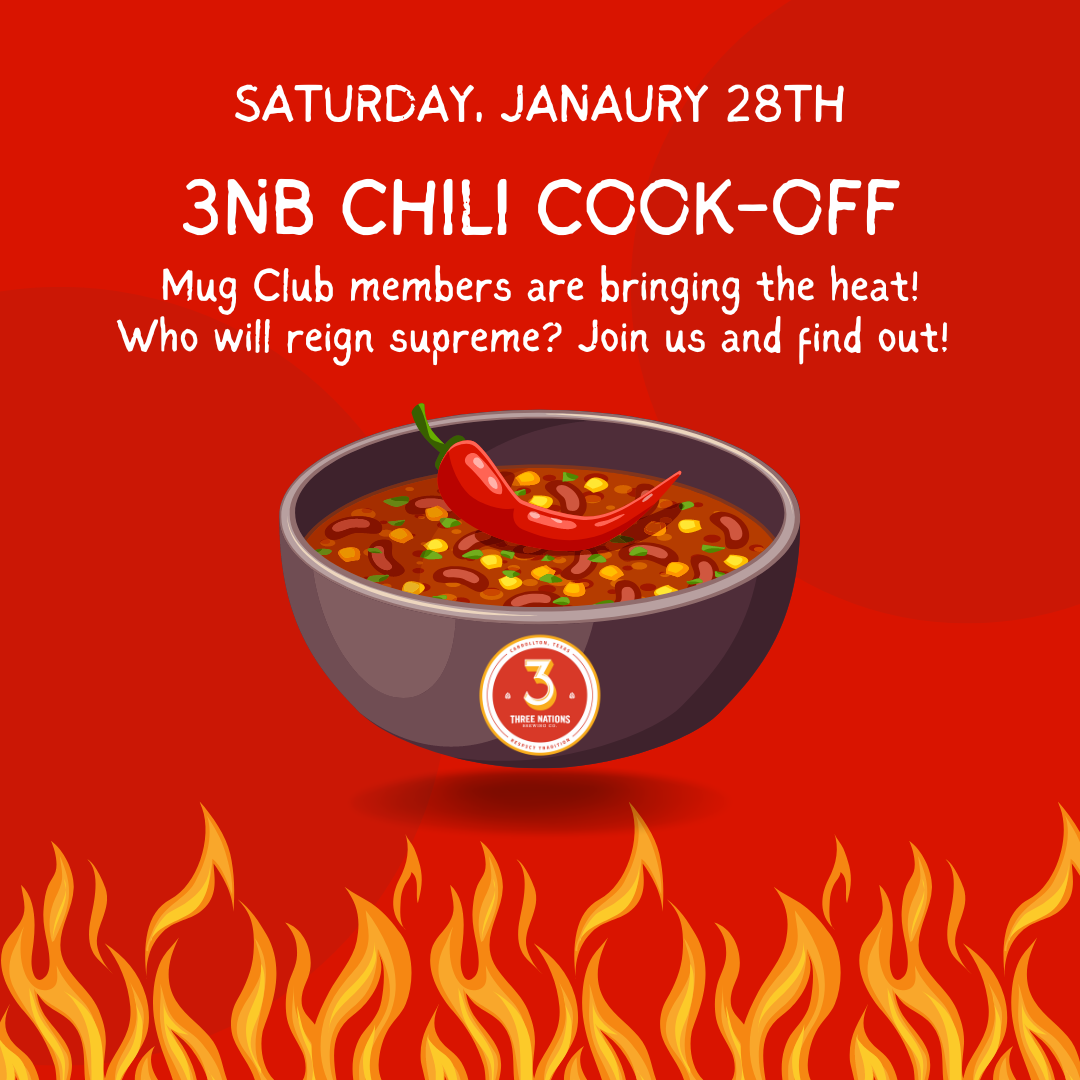 Chili Cook-Off
We're souper excited after a 2 year hiatus, to bring back our chili cook-off.
Mug Club members will be bringing the heat. Are you ready to sample and help determine the winner? We kindly ask that everyone who wishes to sample the chilis make a $5 cash donation that will go to Metrocrest Services.
Cook-Off Rules
1. Contestants will be comprised of members of our Mug Club.
2. Contestants should be at 3 Nations Brewing by by 12:00 p.m. to set up.
3. Contestants may only enter 1 batch of chili. There will be a 1st, 2nd, and 3rd place prize. Plus a People's Choice award.
4. Each individual/team will be assigned a table and are welcome to decorate their area!
5. Participants must furnish their own cookware and utensils.
6. Chili must be cooked from scratch at home and brought to the event "ready to eat".
7. Chili entries must be kept warm with the use of crock pots or other warming devices during the contest and electrical outlets will be provided. It is recommended that contestants also bring extension cords.
8. Each contestant must make a minimum of one (1) gallon of chili, although much more is appreciated. We're hopeful that there will be a large hungry crowd of good samaritan beer drinkers ready to sample your chili.
9. Each participant must provide one (1) pint of chili for the judges to sample. (Bribes are not allowed)
10. Name of recipe with a complete list of ingredients used to make the chili must be displayed for each entry. Quantities do not need to be included. (for allergy purposes)
11. Tasting spoons, napkins, serving cups, sample cups, and ballots for the People's Choice Award will be provided.
12. No deliberate sabotage to another contestant or their entry will be tolerated and such an act would lead to automatic disqualification. Remember this is for fun!
Judging Criteria
The official judging by a pre-selected panel of judges will begin at approximately 2:00pm. The pre-selected judges will not enter the preparation area prior to judging. Your chili sample will be collected at approximately 2:30pm and taken to the judge's location for tasting. Chili will be judged on the
following criteria, Aroma, Appearance, Taste, and Texture (Consistency). Each is voted on with 1-5 points and
taste points are doubled. Chili entries with the highest scores wins. Public judging for the People's Choice
Award runs from 3:00pm to 4:00pm. Everyone is encouraged to sample and cast their vote!