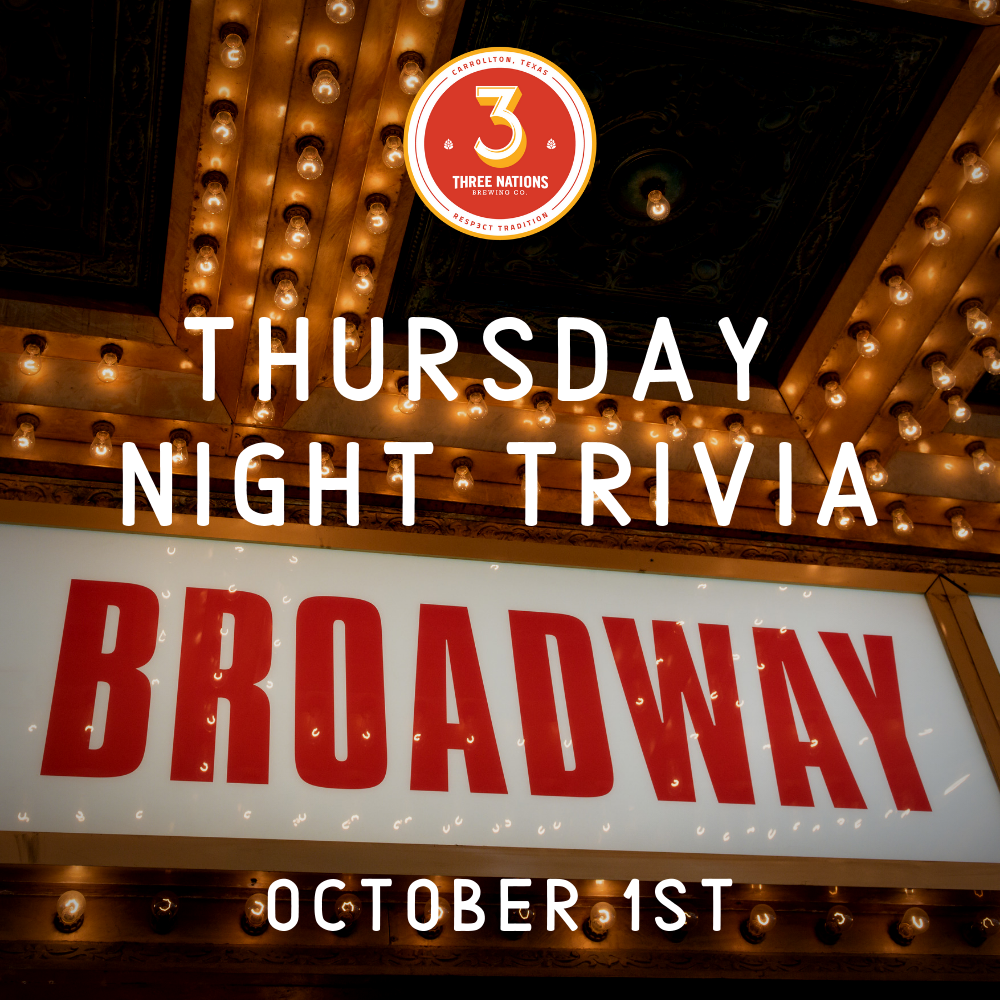 Thursday Night Trivia: Broadway – Oct 1st
Live from Studio 3NB, with your hosts, Sunnye & Jordan, it's 3 Nations Thursday Night Trivia! Here at 3 Nations we have two ways to play. You can join us in person at the brewery or join us online virtually, from the comfort of your home.
This Thursday's theme is Broadway!
Here are the Rules/Parameters:
1. We utilize Google Forms for our answer sheets, whether in person or online Each round has its own unique Google form.
2. You'll need a team name. We award prizes to our favorite team names each night, so come up with something fun, and on topic! Team names need to be family friendly.
2. Teams will need to complete a Google Form/Quiz for each round. We'll be posting links for those those in the event and in the video.
3. There will be 3 rounds of 10 questions each. At the conclusion of the round, your scores will be released. We will read the answers at the conclusion of each round.
4. We'll ask the questions in the taproom and via Facebook Live. If you opt to play virtually, you have to be Live along with us to play.
5. DO NOT POST THE ANSWERS IN THE CHAT.
6. If you get an answer wrong because of a spelling or capitalization error, no worries, go ahead and give yourself that point! We do not score on our end or award prizes based on scores, so you can award your own points!!
7. We choose 1 random winner each round and then our top 3 favorite names for the day to receive a 6-pack.
8. Please DO NOT CHEAT, remember this is all for fun.
9. Trivia host has final say on all answers.